conie fox dress 2
While I would love to wear something
full length
, everything I was in love with ended up being much to formal. I needed the perfect dress for my
rehearsal dinner
. Not too formal, but not too casual. Something white, ivory or off-white.
conie fox dress 1
My first love affair was with one of these two dresses. I felt like both were made with soft flowing fabrics and even though they were long, they felt more casual and beachy.
The hint of color at the bottom brought them out of "wedding dress territory" and into a more casual day-evening look.
My only problem was I wasn't sure if I wanted to spend $200+ for these dresses.
I would most definitely be wearing dress #1 throughout the summer since it feels like such a beach dress.
The other because of the beading would be a bit harder even though I love it so very much. It's so beautiful with the blue and purple flowers on the bottom.
Every
short dress
I kept finding I didn't like. They were all so fluffy, poofy or so short I'd be afraid if I moved the wrong way, guests would get a full view. yikes.
So what did I end up getting after sifting through hundreds of dresses? I found this perfect dress. Not to formal and not too casual with just a hint of bling.
It actually reminds me of something Kate Middleton would wear. Sexy, yet chic and timeless. I love it!
The best part is, it only cost me $79 bucks!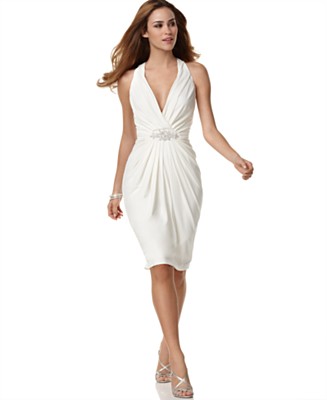 London Times dress